Know-how and experience
Mas Tecnologie is created internally Mas Meccanica and take advantage of whole experience and well known quality of Mas Meccanica. Mas Tecnologie is this for able to produce on own constructed and produced moulds and also on moulds sent to them for that purpose. Complete construction phases, mould construction and printing are developed internally. Mas, company in continuous evolution, from ever dedicated to customers need. Complete gamma of machinery and equipment allows to reduce manufacturing time. Production flexibility, correlated services (internal working of mould parts, several phases of control, quality, assembling) are main straight together with high quality level.
Quality and certifications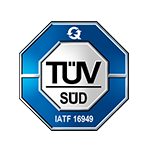 Our orientation towards quality is a firm part of the company philosophy. This made possible for us to get the certification ISO 9001 and IATF 16949:2016. This achievement collocates Mas Tecnologie in a dynamic environment where the "quality of the product and of the system" is always improving and the customers' satisfaction has the highest priority.
ISO 9001 - Download Certificate »
ISO IATF 16949 - Download Certificate (Italian) »
ISO IATF 16949 - Download Certificate (English) »