Know-how and experience
The Company was created through the owner experience and know–how in moulds and moulding areas for slicing-bending-perforated for sheet metal. Our products are addressed to the needs for several fields: automotive, technical sporting, food, pharmaceutical, electronic, household appliances and gardening sectors.
The company has operational headquarter in Torre di Mosto, a province of Venice Operational been extended from 3.500 to 7.000 square meters with the purchase of a 800ton Servo Press. In the last few years the company has been a leader in the sector for lamp holders supplied mainly to the biggest European automotive manufacturers. With already a primary role in mould making, the Company has been chosen as partner for several local and European Companies, particularly in Germany. Important in the development in the last years moulds for: automotive and householders. The consolidated experience and staff competency is directed completely to development and construction of progressive, transfer, block and manual dies. Permitting to propose appropriate and innovative solutions for every need and problematic.
Quality and certifications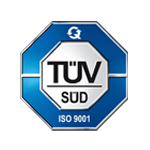 Our orientation towards quality is a firm part of the company philosophy. This made possible for us to get the certification ISO 9001. This achievement collocates Mas Meccanica in a dynamic environment where the "quality of the product and of the system" is always improving and the customers' satisfaction has the highest priority.
Download Certificate »
Download AutoForm Software Certificate »